Classic car transport - the gentle way
Classic cars are valuable witnesses of automotive history, embody a whole way and as such are much too valuable to take long distances by themselves. We will take care of the distance so that you will have the jewel of your collection right where you want it to be. Whether it's theholiday resort, the workshop, the racetrackor an exhibition– we bring your vehicle safely, quickly and discretely to its destination.
We transport cars across all of Europe and our transport trucks are tailored to meet your needs.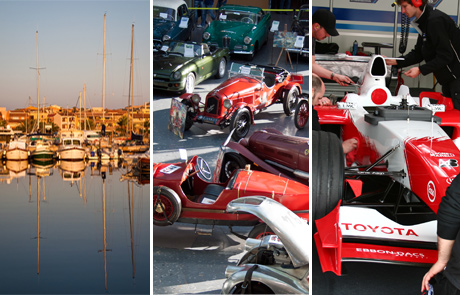 Our fleet
Over 2,500 transports a year not only require a team of trained professionals, but also a reliable truck fleet.  Our car pool consists of 27 vehicles from all vehicle transportation categories from the 40-ton Actros truck (with a transportation capacity of up to six vehicles) to a large van (for one car), providing us with the means to transport even large and unwieldy classic cars.   We conduct regular quality inspections to ensure the safety of the cargo.  The average age of our transport vehicles is approximately two years, allowing us to always keep our fleet on the cutting edge of technology.
Transportation
Our customers trust our skills as classic car transport specialists, which gives us the motivation to be on the cutting edge of transport security and safety.  We oblige our drivers to take part in external and internal training courses, making it possible to find a transport solution taking in account all of your questions and needs.
One of our biggest success as on the field of vehicle transportation was our participation in the vehicle haulage for the classic car show "Retro Classics".  Within only 24 hours, we managed to bring 170 vehicles from all across Europe to the Stuttgart Trade Fair centre and returned them within 24 hours, as well.
The key to our success lies in combining advanced transportation technology with traditional methods, such as using modern cargo lifts in our trailers along with traditional techniques to secure a classic car in a trailer.  We use lamb skin to protect whitewall tires from being damage by the holding straps. Our drivers always wear white gloves while handling the vehicles.
The famous German automobile magazine Auto Bild Klassik mentoined our transportation methods in an article in the 2/2007 issue on page 135.